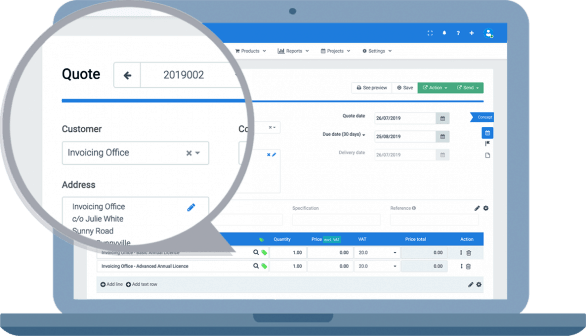 The quote is known as a document that includes the fixed price of a product that is sent from the supplier to the potential buyer. It is important to generate a quote for your company or business as it helps your company grow and produce. A few years back quotes are generated manually with a lot of complex tasks in calculations. But after the advancement of technology, there is a huge variation in creating a quote that gave a professional look with the help of invoicing software. So here are some of the simple steps to create quote online.
Selecting template: All the companies need the perfect outlook for their quote and that should be unique. So selecting a perfect template will help to make your company quote look professional. There are different types of quotes template available to make quotes online and that is free of cost.
Client information: Your online quote should have the client information such as business name, contact info, address, fax number (if any), mail address, contact name, and their info. So these are the things you should add in client information. This information will help you to enhance your business from the client's point of view.
Start with an invoice creation: If your business wants to be enhanced then the best way is to create a template that begins with an invoice. Because invoices and quotes consist of more or less the same information. You can add some of the necessary information such as formulas and calculation parts. You can also set the expiration date of the invoice if it is necessary.
Quality of readability: Readability factors influence the buyer the most as they must be able to scan it and understand the information with a single look. The important sections have to be made clear to the buyer and able to summarize the values of the transaction. To make your own quote you should have quality in readability.
Product details: Your quote must not look only with values and calculations alone. It should have a proper product name and its details. It will be easier for the buyers to understand the calculation if they have any clarification in the calculations. You must see that you give a quote with the lowest cost because if you give quotes for the highest cost the buyer may shift to another company.
Products and services: You just need to add the details of the product and services that you offering to create quote online. This is one of the good practices because it includes the description of products, its quantities, unit price, total price per product, and product number. You can also divide the product into different categories.
Terms and conditions: There is always an additional service provided to each quote created and that work will cost extra. So it is a must to give the terms and conditions briefly to create quote.
So these are some of the simple steps you must follow to create quote. If you want to create quotes online you can use the online software platform called Invoice Office which has lots of features in it.