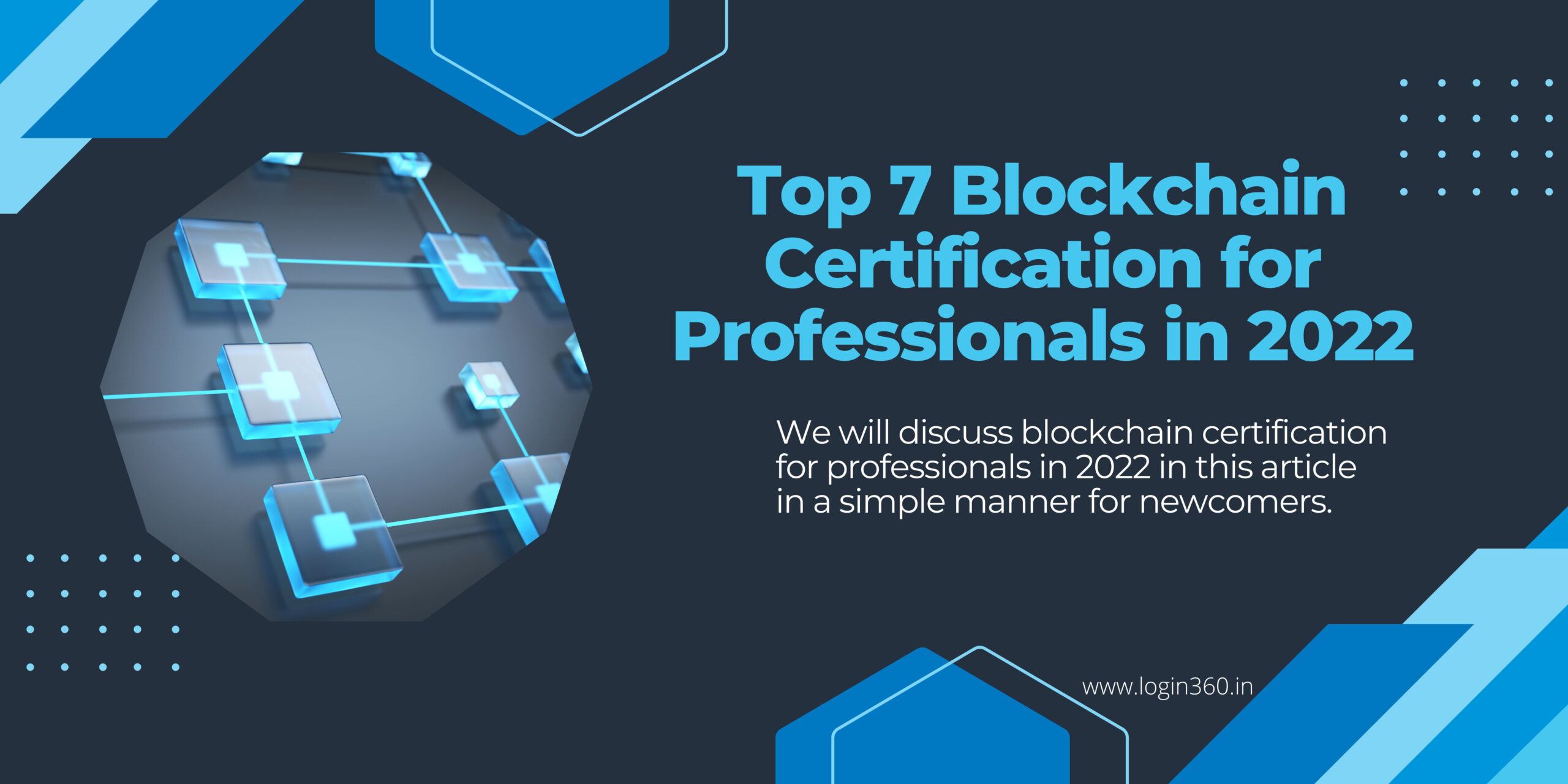 We will discuss blockchain certification for professionals in 2022 in this article in a simple manner for newcomers. One of the most widely used technologies in the future is blockchain.
What is Blockchain?
A data storage technique called blockchain makes it difficult or impossible to change, hack, or cheat the system.
A blockchain is basically a collection of computer systems that keeps multiple copies of each transaction in a distributed digital ledger. A record of each transaction is recorded to each participant's ledger whenever a new transaction takes place on the blockchain, and each block in the chain comprises a number of transactions. Distributed Ledger Technology refers to a decentralized database that is governed by numerous users (DLT).
Top Picks for Blockchain Certifications
Numerous new internet businesses are becoming increasingly interested in cryptocurrency and blockchain certifications. Some of the factors contributing to cryptocurrency's rise in popularity over the past several years include the security and transparency this technology provides.
The underlying technology of cryptocurrencies has not changed. Maintaining data pertaining to open transactions benefits, especially from it. The fact that this technology does not require external validation is its strongest feature. Exploration of blockchain's useful applications is a burgeoning area.
The use of blockchain has made developers all around the world more interested in learning this technology. The sector has seen numerous changes thanks to smart contracts and other applications of blockchain. Blockchain expertise will be required as the technology develops.
Blockchain Certification for Professionals in 2022
1. Certified Blockchain Architect
One of the greatest blockchain credentials available is the Certified Blockchain Architect (CBA) course. It aims to arm you with the knowledge and skills required to make informed judgments about blockchain technology. The certification consists of an introduction and five distinct modules covering subjects including the Fundamentals of Blockchain Architecture, Tools Needed for Blockchain Architecture, and Building Your Own Network Nodes.
2.  Certified Hyperledger Developer
The Certified Hyperledger Developer Training program, another of the best blockchain credentials, aims to give students a thorough understanding of Composer and the Hyperledger Fabric. This certification equips you with the skills required to operate as a hyper ledger developer and was created by professionals.
3. Blockchain Specialization
An introduction to a blockchain is provided via this specialized certification. Your ability to develop on the Ethereum blockchain will be prepared for you by this course. A private Ethereum blockchain platform is used for the certification, which covers key subjects related to blockchain technology and decentralized applications. It is targeted primarily at designers and programmers who want to create and use blockchain applications. At least one high-level programming language must be mastered.
4. Certified Smart Contract Developer
This certification gives you knowledge of smart contracts and how to construct them on any blockchain platform, allowing you to become a Certified Smart Contract Developer. To earn this certification, you don't need any prior Ethereum Blockchain experience.
The design of Smart Contracts is covered in this training and exam-based program. It covers subjects including the Certified Smart Contract Developer Exam, Understanding the Fundamentals of Smart Contracts, and an introduction to Ethereum.
5.
Advance Your Skills In The Blockchain
The study path begins with an overview of the fundamentals of blockchain technology, concentrating on Ethereum, like other online blockchain courses. The course also covers iOS programming with Swift once it picks up speed with developing decentralized apps and understanding Solidity to build smart contracts.
As a result, the course is intended for those with prior object-oriented programming and familiarity with numerous programming languages. Additionally, the training broadens your understanding of cryptocurrencies and the most recent security measures.
After completing the course, students will receive a certificate and be eligible to apply for opportunities in the blockchain sector.
Conclusion
There is a lot of potential for blockchain technology. This technology has made it possible for organizations to execute business transactions in a transparent and secure manner. The low cost of Blockchain technology makes it very tempting to start-ups. Our understanding is that the majority of corporate sectors will use this technology because of its effectiveness and potential for innovation. The demand for certified blockchain developers would consequently increase. Blockchain developers who can assist in transforming their business objectives with this extraordinary technology are already in demand from business owners. The best moment for blockchain aficionados to enroll in one of these worthwhile courses is right now.