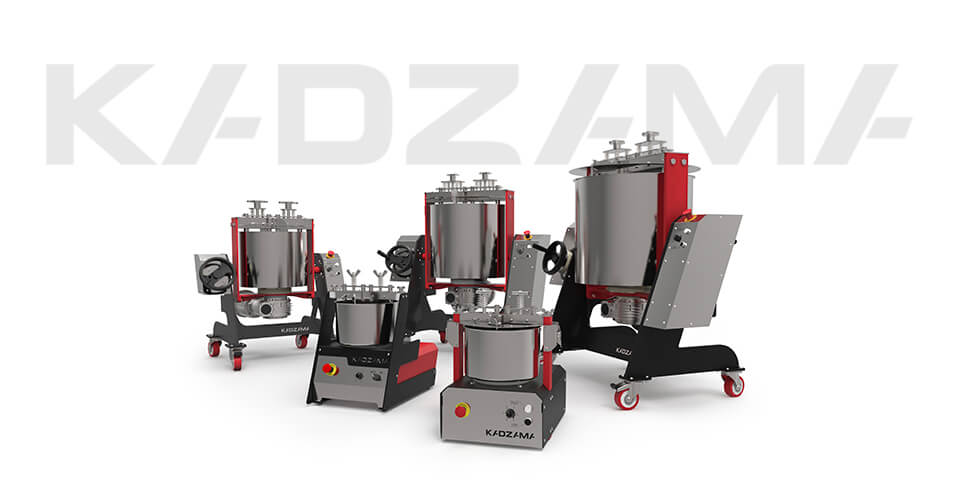 If you run a huge or small food processing industry or Chocolate making industry, then you cannot say No to this – Kadzama Melanger – Modern Multi-Purpose Professional Grinder.
Why Buy Kadzama Chocolate Conching Machine or Chocoa melanger machine?
Nothing is more efficient and easier than having a strong and sturdy Kadzama Chocolate Conching Machine or Chocoa melanger machine. This KADZAMA 7Kg Melanger is a Super Sturdy & Solid Melanger. Perfect for your Restaurants, Supermarkets, home, Small processing plant, or Big Food factories. If you are just starting out confectionery chocolate craft maker or chocolate business proprietor, then we strongly suggest KADZAMA  melanger will give you the pride and that will increase the value of product.
Features/Highlights:
Let's know the unique features of the KADZAMA 7kg melanger machine refiner is very robust in comparison to any other chocolate melanger, Plastic-free – stainless steel parts, refines with granite roller stones, strong pressure spring system for reliable, Powerful motor with good cooling resistant for reduce the risk of overheating.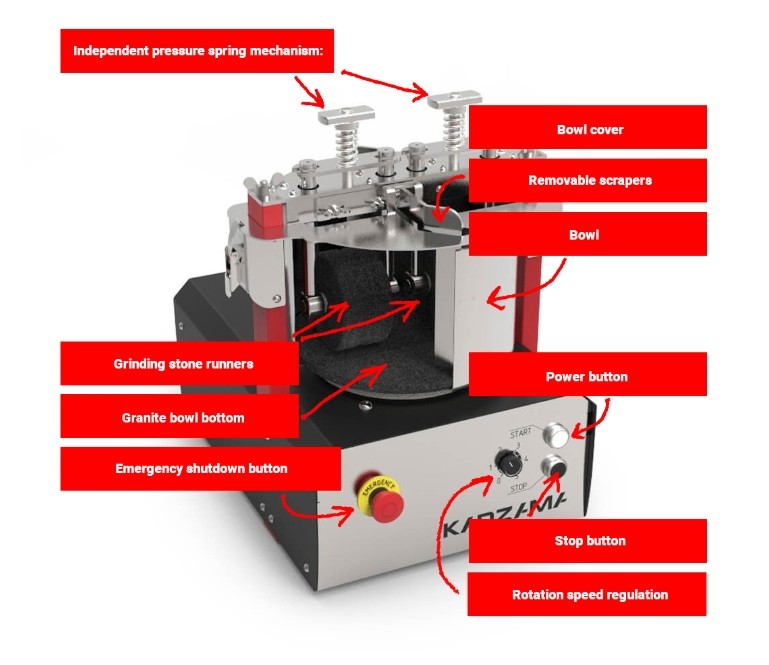 This Peanut Butter Grinder Machine/Kadzama 7Kg Melanger transforms cocoa nibs into finished chocolate right before your eyes.
Lasting performance.
Made with high quality and durable steel body with ✓ Rust and Shock Resistant. ✓ Easy to use & hassle-free Chocolate Conching Machine. ✓ Low Maintenance & Cost-effective Chocolate melanger machine. ✓ Superior Reliability. ✓ Maximizing production while minimizing downtime
Usage: Kadzama 7Kg Melanger is Ideal for the preparation of chocolate, nut paste, Dough making, Hummus, Urbech, and other pasty snacks, Water, poppy, almonds, cedar based milk and other products that require grinding to a pasty state.
Similar Products – Chocolate Melangers/Nut butter Grinders:
Chocolate Refiner
Santha Stylo Chocolate Melanger
Spectra Chocolate Melanger
Spectra 11 Chocolate Melanger
Chocolate Melanger With Speed Controller
Premier Compact -110V
Premier Wonder – 110V
Peanut Butter Grinder Machine
Where to Buy Kadzama Chocolate Conching Machine or Chocoa melanger machine?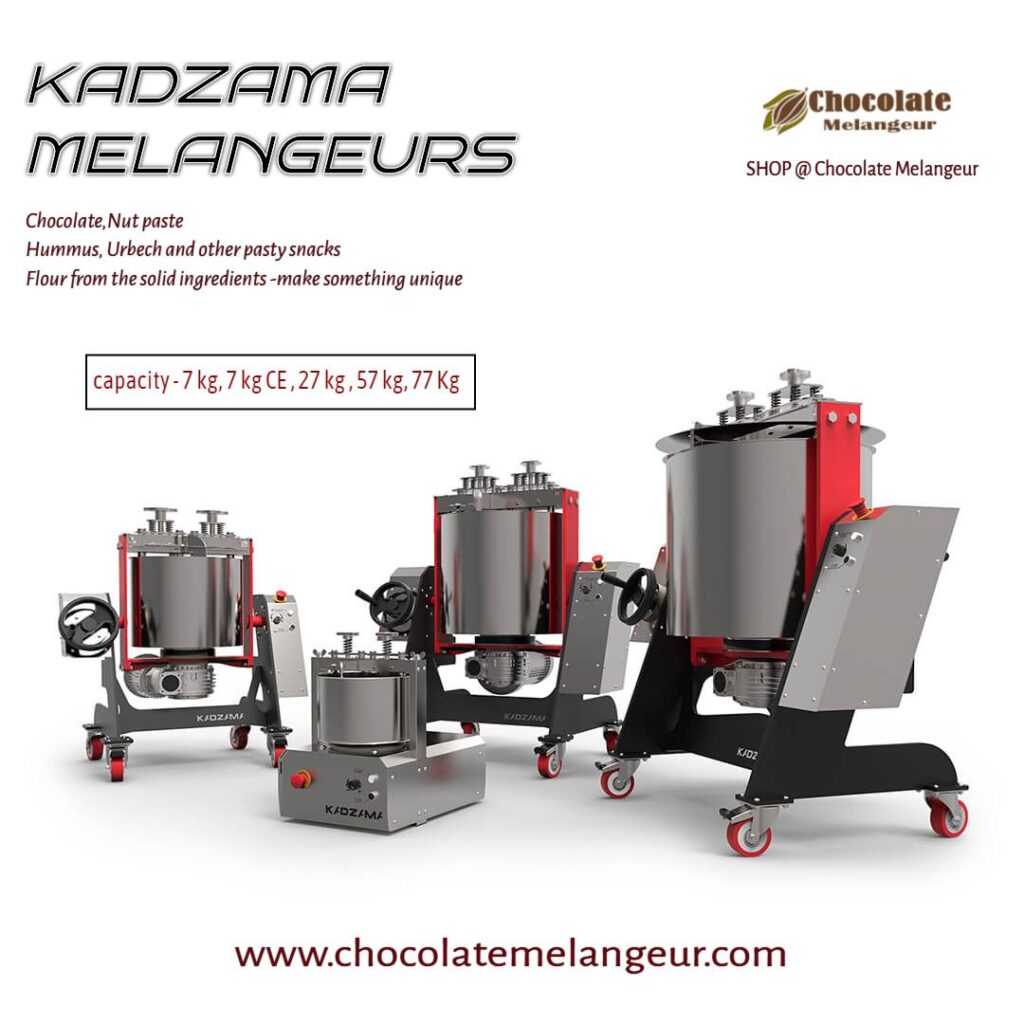 Chocolate Melangur Online Manufacturers and Suppliers of Commercial & Residential Melangers company have released a new serial version of the melanger! KADZAMA 7Kg Melanger.  There are so many machines are available in the market to make chocolates. But all you have to get to grab as using KADZAMA melanger than you get high-quality chocolate. That superior taste stands out from the branded one. Now you can check out with Chocolatemelangeur online shop offers KADZAMA 7kg melanger machine with factory price.
Brand Name

Volume / Wt
 

KADZAMA Melangeurs

(Multi-Purpose & Professional Stone Grinder )

7 kg

7 kg – CE

27 kg

57 kg

77 kg
About ChocolateMelangeur.com:
Chocolate Melangeur online Kitchen appliances store delivering a complete collection of Chocolate Melanger Machine with salient features that you never heard or used of. We are one of the best dealers of Premier Tilting Chocolate Refiner and melanger machines with durable and reliable speed motors.
Free Express Delivery across worldwide.
Exclusive offers.
Cost-effective Chocolate Melanger in one Place.
Huge variants.
24/7 Customer Support.
Authorised Manufacturers of Cocoa Melangers.
Conclusion:
When it comes to Professional hands, it requires huge kitchen appliance. Without our Kadzama Chocolate, Nut butter, Or Peanut Butter Grinder Machine, your food processing mission will be in failure mode. So, don't let it down, quickly check out this KADZAMA melangers – Multipurpose professional stone grinders with simple and solid construction for business and confectionery craft. Our equipment complies with specifications of the EU, USA and Australia.
Buy quality assured & branded Kadzama Chocolate melanger & save more. Visit our exclusive grinders. Book for Factory Prices. Limited period offer. Avail Soon!
If you have queries or trouble ordering our Chocolate Conching Machine/Peanut Butter Grinder Machine online, feel free to Call us or drop us mail.
For more info, Visit us at:
Shop @ https://www.chocolatemelangeur.com
Email us:  support@chocolatemelangeur.com
Contact : +14122195053 / +917395959759