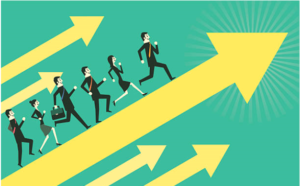 The United Arab Emirates (UAE) marks a staggering rise in the global job employment rating.
Recent reports reveal how the Emirates has made a strong presence in the world as its job employment signals an encouraging hiring rate, accruing a 36% hike for healthcare, retail, and information technology, among other sectors.
The launching of the World Expo 2020, heralded the surge in hiring for both top-management and frontline-service positions to cater to the multi-industry demands of the expo. Notably, there is an estimate of more than 600 newly registered companies in the UAE. Topping the list of industries positively affected by the expo is the food and beverage (f&b) with a 120% increase in hiring.
Skilled candidates with multiple expertise and experience had taken advantage of the flexible working conditions and switched careers in key industries such as software services, corporate services, and consumer goods, to name a few.
At the center of this career, changes are talents characterized by "self-initiated" and "technology-mediated" jobs such as professional and personal trainers, content managers, and business developers.
Further, the shift into a skills-based approach to recruitment paved the way for the diversity of opportunities for candidates, especially in the fields of administration, healthcare, and education.
Since skills have become a detrimental factor in recruitment and retention processes, skills development has been envisioned as an area eyed worthy of investment. Candidates and companies are investing in capacity development training for continued relevance and responsiveness of services, especially for services aligned with information and technology.
This drastic rise in employment in the Emirates presents career opportunities for candidates seeking employment in their areas of specialization. This also signals a more encouraging chance for seekers to explore job opportunities posted on i12WRK.
i12WRK is known for its high job turnover results. It is both seeker- and provider-oriented platform, specially designed for the complete exhibit of seeker potentials and for the exhaustive reach of providers, enabling the attainment of its quality brand of 80% fulfillment rate.
With the surge of job vacancies, there have been hundreds of job postings on i12WRK every day. Active seekers can enjoy exploring the portal for these job opportunities, aided by the functions feature for easier search-and-find deals.
With its free-to-access website and mobile app (iOS/PlayStore), and its AI-powered technology, i12WRK makes sure that job seekers are a few taps closer to thousands of career opportunities in this most encouraging time in the UAE job market.
For More Details:
Content Taken From:
https://i12wrk.com/i12learn/job-alert-emirates-at-the-top-of-world-hiring-boom-626151dbc890642bb73110c6